"
It's hard to say that I'd rather stay awake when I'm asleep
," Fireflies by Owl City.
So this is a tag by a friend of mine,
Najwaa
. It's a simple enough tag. Just list down 5 of your favourite TV programmes/shows that you were obsessed with during your childhood. Easy.
I was a cartoon addict back then, and I recall a time when I woke up late one weekend and upon realizing that I had missed the show (Pokemon, I think) I cried. I was 8 years old at the time.
So here are my 5:
1. Pokemon


Gotta catch 'em all!



Pokemon Blue: highly addictive!
I can hear the theme song playing in my head already. When it came to Pokemon (Season 1), you name it, I knew it. Everything there was to know about those cute little vermin, I knew. I was a walking, talking, breathing PokeDex. I played the game until my eyes got sore while listening to Britney Spear's "I'm Not A Girl, Not Yet A Woman" on Winamp. I had the Pokemon sticker book (but then again, everyone did at the time) and was well on my way to finishing it until a teacher confiscated it from me, us, everyone. I always fantasized that there would be a Pidgey or a Ratatta hiding in any long grass I passed through. I purchased the Pokemon merchandise, and even those trading cards and was the understudy of Akmal, the owner of several decks (I only had one). More affluent friends bought those assemble-it-yourself Pokemon models and played with them in class as I enviously watched on. Then, a piece of paper saying horrible things about Pokemon saying horrible things stopped my interest in them.
2. Mighty Morphin' Power Ranger
s


Go go Power Rangers!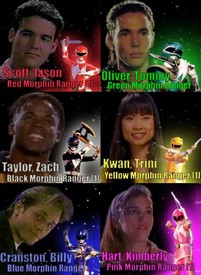 Just in case you forget their names.


Remember Alpha 5? "Aiyaiyai!!"


I was in love with these guys ever since I could speak. I don't know what my first words were, but if you told me they were "Go! Go! Power Rangers!" I would believe you. I loved the fact that they were the best of friends, fighting evil together while still managing to have great fun together. Plus, they got those cool morphin' belt buckles which were to die for. The way they made punching bags out of the monsters that Rita sent down to defeat them, and after almost being beaten, she throws down her staff from her lair on the moon to unleash a crevice full of smoke to supply her monster with even more power and grow ten-fold. The Rangers don't mind as they call up their Zord pals and combine to become Megazord and eventually beat the monster. My personal favourite is the green ranger, Tommy. He has that long hair which was so cool back in the '90s and he's got that neat dagger that also acts as a flute to call up his Zord. Memories.
3. Digimon
Taichi and the rest of the gang.


They digivolve!
I memorized the whole intro (Japanese version). I knew the names of all the 1st wave of Digimons. I watched all the episodes of Season 1. I even have a few Digimon VCDs, some in Malay, some in sucky English spoken by Malaysians, and I think just one or two actual American English VCDs. I envied all my friends that had Digivices and brought them to school. They were super-expensive back then, so I was just a spectator to their battles. I was also given a Digivice by someone (I can't remember) to tab it (the art of getting your digimon to digivolve without actually training it). Then that friend got a newer Digivice and gave the Digivice that I was tabbing to me for FREE! I loved that little thing as if it were my own brother and tried hard to take care of it, even though at that time, the trend was deteriorating. I had the sticker book until (again) a teacher confiscated it. But after numerous seasons of Digimon, I have now lost interest in the all-new Digimons. The simplicity of it is gone.

4. Barney



Come on in and join the fun!
Barney is a dinosour from our imagination. And I loved him! I have an overload of video tapes (yeah, it was THAT long ago) in the store-room showing just how much I loved him and he loved me, and that we're a happy family. I learned a LOT from him and the gang. Songs, games, manners, everything you want a five-year-old to learn, I learned it from him. My English would not be where it is today if it not for the oversized purple t-rex. Seriously. He would take the kids in the class and give them a whole adventure using only their own imagination, sing songs, give lessons. And don't forget, he can be your friend too, if you just make-believe him!

I'll just leave it at 4, 'coz I can't think of anything right now.

I leave you with the opening theme song of Barney & friends.


Cheers!